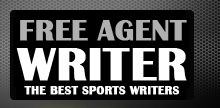 Yankee Addicts
Categories
Featured Sponsors
News published by
April 23, 2011
2+2 = 4 Always has and always will be. It is a simple equation with a definite answer. In other words, it is the total opposite of the way the ...
March 27, 2011
Over the coming weeks leading up to the NFL draft, I will be breaking down top prospects at various positions to give you the best idea of the player your favorite ...
February 10, 2011
Jerry Rice. John Stallworth. Terrell Owens. Kurt Warner. Michael Strahan. Other than wildly successful careers, what do these players have in common? They all hail from small schools. As these players ...
February 2, 2011
It's the epitome of a contradiction upon first glance, but the Pittsburgh Steelers offensive line is a perfect microcosm for the team.How can arguably the team's weakest link compare to ...
January 21, 2011
For such a big game, there's been little talk between the New York Jets and Pittsburgh Steelers. New York has taken the "kill them with kindness" approach, with Pittsburgh following suit. ...