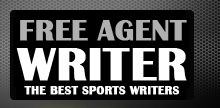 Yankee Addicts
Categories
Featured Sponsors
News published by
March 30, 2011
With each Charger season seemingly upstaging the previous, Charger fans continue to hold their breath. Owners Alex and Dean Spanos have been doing everything in their power to make San Diego ...
March 29, 2011
During this unsettling state that is the 2011 NFL offseason, we still have one thing to keep us busy: trade talk.  Teams have more time than ever to sit back, ...
March 28, 2011
It's an interesting year for free agency and the NFL draft.  Normally, free agency happens immediately after seasons end and the draft is focused solely on filling the holes that ...
March 28, 2011
Before we can even dabble with the thought of an NFL season, a much anticipated pre-season awaits us all.  Normally, a big part of the summer is always NFL players ...
March 24, 2011
If there's one thing the Philadelphia Eagles do well, it's knowing when to take chances. Take Michael Vick for example. You're telling me that wasn't a high risk, high reward ...
March 15, 2011
Boise State wide receivers Austin Pettis and Titus Young are going to be one of the only tandems to ever get picked in the NFL draft from the same team ...
March 15, 2011
Carson Palmer will retire if he isn't traded or released by the Cincinnati Bengals before the start of the 2011 NFL season.  Palmer, who's been with Bengals his entire career ...
March 8, 2011
I've resided in San Diego since 1990, and I've never gone to a parade here.  I've been to Disneyland, but seeing Goofy trip over himself like Kramer isn't the same ...
March 3, 2011
The San Diego Chargers have had probably the most ups and downs a team could have in the latter half of a single decade.  They went anywhere from home field ...
February 21, 2011
The 2011 NFL Draft is less than two months away.  With a possible lockout looming, the draft may be the most action us NFL fans get for a while.Sure every ...