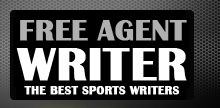 Yankee Addicts
Categories
Featured Sponsors
News published by
June 1, 2013
Earlier this offseason, current Chicago Bears fullback Evan Rodriguez was arrested down in Miami on charges of disorderly intoxication and resisting arrest without violence. Rodriguez and a few of his ...
May 28, 2013
On draft day, it seemed that Kyle Long stole the show for the Chicago Bears.There were rumors swirling that the Bears might select LB Manti Te'o or TE Tyler Eifert, ...
July 14, 2012
By now, everybody who has even ever heard of football knows of the Matt Forte contract saga, but let's get caught up to speed.Matt Forte wants a new long-term deal ...
July 4, 2012
Since the infamous "Almost" in 2006, the Chicago Bears have been building up a team for the future.Well, it seems that time is finally upon us. Now is the time ...
May 26, 2012
There have been a lot of questions this offseason about the Chicago Bears, mainly surrounding their offensive line.Fans were looking for answers to those particular questions when OTAs (organized team ...