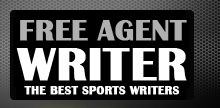 Yankee Addicts
Categories
Featured Sponsors
News published by
November 26, 2010
Perhaps like me you pay close attention to what's going on in the NFC West, probably unlike me you think the division is worse than satanic puppy rituals and it's ...
October 4, 2010
So let's see if I remember this right. If A is better than B, and C annihilates A, then C is better than both A and B. Yes? The Rams have ...
September 8, 2010
Considered the worst division in football despite sending the most NFC Champions to the Super Bowl since 2001. This year will be a changing of the guard, but not like some ...
March 11, 2010
It seems recent actions by St. Louis Rams management is pointed towards signing Sam Bradford. Everywhere I look, analysts and fans are changing their mmock drafts and putting Bradford at ...