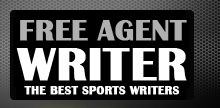 Yankee Addicts
Categories
Featured Sponsors
News published by
November 15, 2010
The Game In what can be considered the first embarrassing game of the 2010 season, the Lions lost to the Buffalo Bills 14-12. The Lions once again shot themselves in the foot ...
November 12, 2010
Quarterback Shaun Hill makes his return from injury just in time as Matthew Stafford is on the shelf again.  Hill filled in admirably in his first go round filling in for ...
November 8, 2010
The Game Typically I write the Monday Morning Quarterback articles immediately after the game.  The reason I do that is because the game is fresh in my mind and it's a ...
November 5, 2010
Leading up to the Detroit Lions' game this week against the NY Jets, much has been made about the weakness in the Lions' rush defense. This is valid, considering that the ...
November 2, 2010
When the Detroit Lions selected Ndamukong Suh with the second pick of the 2010 NFL draft, some questioned whether it was wise to draft a DT so high.  The list ...
November 1, 2010
The Game In an exciting seesaw affair that featured many lead changes, the Detroit Lions came away with a 37-25 victory over the Washington Redskins. This game was won by Detroit's defensive ...
October 29, 2010
Quarterback This Sunday is the day that the Detroit Lions will finally get franchise quarterback Matthew Stafford back.  Shaun Hill performed admirably in Stafford's absence, but make no mistake that the ...
October 18, 2010
The Game This is starting to sound like a broken record, but the Detroit Lions managed to shoot themselves in the foot once again. In a game that proved to be ...
October 11, 2010
The Game The Detroit Lions gave their fans what they have been yearning for in the 44-6 win over the St. Louis Rams, a dominating win.  The Lions were winners in ...
October 4, 2010
The Game In a game that was closer than most expected, the Green Bay Packers held on to defeat the Detroit Lions 28-26. The Lions lost once again at Lambeau field, ...