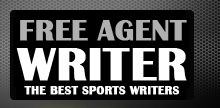 Yankee Addicts
Categories
Featured Sponsors
News published by
October 24, 2010
According to the Associated Press, Brett Favre admitted to sending voicemails to Jenn Sterger when he was with the New York Jets. However, Favre denied sending her nude ...
October 11, 2010
By Jon HeathWhen you are penalized nine times, allow 200 rushing yards, and your offensive line allows three defensive players in the backfield every play, your chances of ...
October 11, 2010
Jay Cutler wasn't there. Todd Collins was, and he was terrible. Luckily for the Chicago Bears, they had third-year running back Matt Forte, as well as Julius Peppers, who made ...
October 10, 2010
All the Indianapolis Colts really needed Sunday was to get rid of their homesickness as they returned to Lucas Oil Stadium all fired up. The Colts' 19-9 win was larger than ...