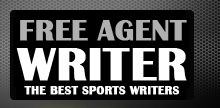 Yankee Addicts
Categories
Featured Sponsors
News published by
January 15, 2014
Seattle Seahawks running back Marshawn Lynch has the right to remain silent via the First Amendment of the United States Constitution, which guarantees freedom of expression among a variety of fundamental ...
February 5, 2013
At some point, San Francisco 49ers head coach Jim Harbaugh must get himself under control. Considering his team just lost the franchise's first Super Bowl in six trips, now would be ...
September 21, 2010
In September of 2007, Michael Vick was the example of everything wrong with athletes of the National Football League and professional sports. Back then, the fleet-footed quarterback had a litany of brushes with Johnny Law ...
July 28, 2010
Like most Americans, I find the National Football League highly entertaining. Unlike most Americans, part of me also hates it. I realize that lands me in the shrinking minority with a ...
May 6, 2010
I'm not all that excited about the National Football League when it's in season. The games are definitely exhilarating and can't-miss television—as long as decent teams are pitted against each ...
April 5, 2010
Congratulations, Kevin Kolb. The city of Philadelphia's fate now rests on your shoulders. Your right shoulder and the arm that hangs from it, to be exact. If you can't deliver on ...