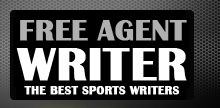 Yankee Addicts
Categories
Featured Sponsors
News published by
December 13, 2010
In bitterly cold blizzard conditions, the New England Patriots and Chicago Bears faced off in what was supposed to be a close battle between two division-leading teams.  Instead, the Patriots ...
November 17, 2010
On Thursday Night, the Chicago Bears travel south to the site of their 2006 Super Bowl defeat, as they battle an injury plagued Miami Dolphins under the bright lights of prime ...
November 10, 2010
State of the Franchise A sex scandal, an emotionally unstable receiver, and a coaching controversy have created quite the mess in the City of Lakes.  This undeniably bizarre and disappointing season ...
November 8, 2010
The Chicago Bears advanced to 5-3 following a close victory over the winless Buffalo Bills to remain a half game behind the surging Green Bay Packers in the battle for ...
November 5, 2010
Chicago's listless offense should come alive against the beleaguered Bills defense this Sunday afternoon in Toronto, Canada. Likewise, the Bears defense will exploit a patchwork Bills offensive line to ...
November 5, 2010
The Chicago Bears travel north of the border to Toronto, Canada, to play the Buffalo Bills this Sunday in a Week 9 matchup between two struggling teams.  The Bears, coming ...
November 3, 2010
With a healthy Brian Urlacher back in command, the Chicago Bears run defense has rebounded following a disappointing 2009 season.  Other Bears defenders, most notably Julius Peppers and Lance Briggs, ...
November 2, 2010
State of the Franchise The glory days of the 1990s are long gone in Buffalo, as the Bills have failed to make a playoff appearance since 1999.  This year promised ...