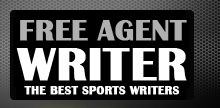 Yankee Addicts
Categories
Featured Sponsors
News published by
November 3, 2013
Even after their bye week in Week 7, the Chicago Bears are in a tough spot, heading into a Monday night game with long-time rival Green Bay. The last time we ...
September 7, 2013
After over a year in hiding, former Chicago Bears general manager Jerry Angelo has resurfaced with a scouting report on current Bears quarterback Jay Cutler that shows why he's an ...
August 24, 2013
J'Marcus Webb is clearly not in the Bears' plans for this year or the future, so it's time for them to try to get some value for their young former starting left tackle. After ...
August 10, 2013
The results of preseason games don't matter, but the Chicago Bears should have a minor concern about starting their first preseason game with a Jay Cutler interception. When Cutler's first pass ...
July 30, 2013
One of the big story lines since the Bears hired Marc Trestman as their head coach was his ability to fix quarterback Jay Cutler's mechanics. However, they're not nearly the ...
June 12, 2013
The standard line in the NFL—and sports in general—is that every game counts, but some are certainly more crucial than others. The two most important areas to focus on for ...
June 7, 2013
Evan Rodriguez's second arrest of the offseason should put his future with the Chicago Bears in jeopardy, but the team isn't left with a lot of options. By now, most ...
May 14, 2013
While many Chicago Bears fans and probably even some in the front office have held out hope that Gabe Carimi could cash in on the potential that made him a ...
May 3, 2013
While the NFC North teams and their fans were focused mainly on their own draft boards, it's hard not to peek over and see what their rivals are doing. The ...
April 24, 2013
With the NFL draft less than a week away, teams are starting to narrow down the players they really want, players they'd be happy with and players they'd merely be ...