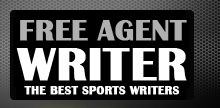 Yankee Addicts
Categories
Featured Sponsors
News published by
January 14, 2017
The NFL postseason has a remarkable habit of stunning unsuspecting fans with enthralling tales of underdog heroics. A single-game elimination system sets the table for dramatic twists and turns more ...
January 2, 2017
Not every Wild Card Weekend contestant represents the cream of the NFL crop. Three teams (Detroit Lions, Houston Texans and Miami Dolphins) advanced to the postseason despite depositing negative point differentials. ...
January 2, 2017
Forecasting NFL's 2016 MVP race has proved futile throughout the season. Every week has welcomed a new candidate while shoving someone else from the discussion. Viewers needed to wait until the ...
January 1, 2017
NFL fans have waited until 2017 to uncover the postseason's opening-round matchups. A few puzzle pieces are complete. Any NFC team planning on knocking off the Dallas Cowboys must do so ...
December 31, 2016
For some brave souls, the fantasy football season is not yet complete. Not every league wipes Week 17 from memory. Despite the complications raised from playoff teams resting key starters, some ...
December 24, 2016
There's no better way to celebrate the holiday weekend than with Thursday Night Football. Don't think too much about it. With Christmas falling on Sunday, the NFL bumped Week 16's main ...
December 17, 2016
Fantasy football fiends have obsessed over roster dilemmas for months to remain a championship contender during the closing weeks. Many succeeded, only for untimely injuries to harm their title chances. Melvin ...
December 12, 2016
The NFL took one step closer toward clearing its cloudy playoff picture. But with three weeks remaining, it's still a mess. Aside from the Dallas Cowboys, no team has clinched a ...
December 10, 2016
As some fantasy football players already learned Thursday night, the guys who led them to the playoffs don't always contribute to a championship. A premier draft bargain, Derek Carr directed many ...
November 25, 2016
Plenty of fantasy football players enjoyed a bountiful Thanksgiving slate. Others enter Week 12's weekend scrambling to salvage a win. Anyone who started Kirk Cousins, Jordan Reed, DeSean Jackson, Dak Prescott, ...