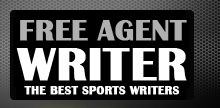 Yankee Addicts
Categories
Featured Sponsors
News published by
December 31, 2015
The Philadelphia Eagles dropped a bombshell this week when just days after being eliminated from playoff contention, the organization released Chip Kelly after three seasons. Depending on where you stand ...
December 29, 2015
With the Philadelphia Eagles already eliminated from playoff contention, it's time to begin looking ahead to the offseason. And while much of the attention will be on who the organization ...
December 27, 2015
The Philadelphia Eagles have nobody to blame but themselves for missing the playoffs this season. They weren't necessarily an inferior team; they simply shot themselves in the foot one too ...
December 24, 2015
It's no real surprise Malcolm Jenkins' invitation to the Pro Bowl got lost in the mail. He simply didn't put up the numbers and doesn't possess the reputation of the ...
December 16, 2015
With back-to-back victories and the team in control of its own destiny, there's no question the Philadelphia Eagles' stock is rising this week. Wins over Washington and the New York ...
December 15, 2015
Perhaps expectations for Nelson Agholor's rookie season with the Philadelphia Eagles were a little unfair. The first-round draft pick was supposed to replace Pro Bowl wide receiver Jeremy Maclin. On SportsCenter's ...
December 14, 2015
Little more than two weeks ago, the Philadelphia Eagles had been left for dead. They were coming off three straight losses, blowing a 16-point lead in the first, then dropping the ...
December 9, 2015
Is the Philadelphia Eagles' stock rising after their shocking 35-28 victory over the defending Super Bowl champion New England Patriots? Not so fast. While there were positives to take away from the ...
December 8, 2015
Would it surprise you to learn the Philadelphia Eagles have a 5-2 record in the last seven games Sam Bradford has started and finished? It's funny. Everybody gets so caught up ...
December 7, 2015
Few people seriously expected the Philadelphia Eagles to go into Foxboro and defeat the New England Patriots. Yet that's somehow what happened on Sunday, as the Birds upset the Tom ...