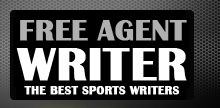 Yankee Addicts
Categories
Featured Sponsors
News published by
August 13, 2011
The most coveted spot in any fantasy football league draft unfortunately comes with some very tough choices to make. While many would love to have this choice to make, those ...
March 27, 2010
JaMarcus Russell, according to Adam Schefter's twitter, weighed in at a staggering 290 lbs at the Raider's offseason programs. Now, unless JaMarcus is considering a position change, he is incredibly overweight.  He ...
March 20, 2010
Six.  Sam Bradford's projected number in the NFL? No, that is the total number of wins the St. Louis Rams have over the past three seasons.  The Rams are currently in complete ...