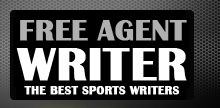 Yankee Addicts
Categories
Featured Sponsors
News published by
May 21, 2011
This last month, graduation as well as other commitments have prevented me from really covering much in the sports world. However, my friend, All-State offensive guard and football researcher Zack Palmer, has ...
April 16, 2011
What often defines an average drafting team from a good or even great drafting team is the presence, or lack, of draft philosophy. For the Steelers under Kevin Colbert and the ...
April 8, 2011
I make it a personal vow every April: Do NOT get enamored with prospects. There is no guarantee that these players will even end up with the Steelers and may ...
April 5, 2011
A lot of speculation was created by the Super Bowl hype machine that is Dick LeBeau's final season as Steelers defensive coordinator. In typical Dick LeBeau fashion, he was frank ...
March 29, 2011
The $9 Billion industry may be what the Federal Government calls "too big to fail," but after what transpired over the last few weeks the NFL looks like it is ...
March 3, 2011
It was the same question the Steelers faced all of last season: is the defense that has consistently been excellent too old to succeed? Last season, with a unit with ...
February 19, 2011
Almost two weeks have passed since the Steelers were on the wrong side of a three-turnover, 31-25 Super Bowl loss to the Green Bay Packers. Players have been busy on ...
February 7, 2011
This one definitely stings. However in retrospect we see that this game was a representation of all the good, bad, and ugly of the Steelers of this year. The game itself ...
February 3, 2011
The NFL couldn't be happier. Two teams that have been so important to the history and creation of the league are playing in what may be the final game before ...
January 30, 2011
The upcoming Super Bowl matchup has already been thoroughly dissected, examined and predicted, but that hasn't stopped writers like me writing about perhaps one of the most historic games in football history. These ...