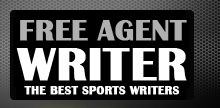 Yankee Addicts
Categories
Featured Sponsors
News published by
April 19, 2011
Ryan Mallett is an extremely talented quarterback. Yet the only stories we hear about him and the 2011 NFL draft have to do with a supposed character issue.Mallett's numbers were ...
April 8, 2011
Riddle me this: The Miami Dolphins haven't been able to find a quarterback who wins since Dan Marino retired. Well, there was that Chad Pennington guy, but he turned out to ...
January 18, 2011
After a busy last few week players have made their decisions on whether or not they are going to the NFL next season.Andrew Luck surprised us by staying at Stanford. ...
January 13, 2011
OK so we have seen plenty of mock drafts the last few weeks.Yeah there have been slight differences, and major changes after certain player declared while other didn't.But for now ...
January 7, 2011
On Thursday Andrew Luck announced that he would be remaining at Stanford to complete his degree.In doing so, he messed up every mock draft that has been in circulation the ...
January 6, 2011
America loves football. Last year an average of 8.3 million people watched the NFL Draft, but overall 23.3 million people tuned in for at least part of it.Think about that. The ...
January 6, 2011
Jim Harbaugh, the Stanford head football coach, is a wanted man—especially after his team thrashed Virginia Tech in the Orange Bowl.The Miami Dolphins still have a head coach but are ...
December 27, 2010
This what fans of the NFL hope for every season.A final week where the games actually matter. Some teams are fighting for a playoff spot, while others are trying to cement ...
December 27, 2010
In just his third season as head coach, and only the second where he actually began the year as head coach, Mike Singletary has been fired.Seems a bit harsh doesn't ...
December 22, 2010
With just two weeks to go in the regular season the playoff picture is becoming a bit clearer.The New England Patriots, Pittsburgh Steelers, Chicago Bears, and Atlanta Falcons have all ...