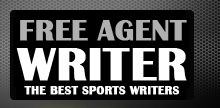 Yankee Addicts
Categories
Featured Sponsors
News published by
March 4, 2011
Just two weeks ago, the NFL and NFLPA wouldn't even talk to each other without storming out of the room.Both sides wanted everything, but only one side could have it. ...
February 4, 2011
At Cowboys Stadium in Arlington, Texas, the Pittsburgh Steelers and Green Bay Packers will participate in Super Bowl XLV already trenched in winning traditions. Between them, they have won nine Super ...
January 11, 2011
In his exit interview with the Philadelphia Eagles, Kevin Kolb said he would like to be traded if the Eagles keep Michael Vick as the starter.The Eagles told Vick that ...