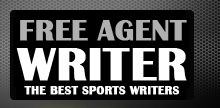 Yankee Addicts
Categories
Featured Sponsors
News published by
August 16, 2010
This article was originally published by the author on his NFL website: NFLTouchdown.com   About six weeks ago, I wrote a column that posed the question of whether or not the San ...
March 28, 2010
Earlier this offseason, I wrote an article stating that upgrading the quarterback position wasn't necessary for the San Francisco 49ers. However, that piece was written before the Philadelphia Eagles confirmed they ...
March 12, 2010
The first week of NFL free agency is already in the books. Numerous teams have already made significant upgrades at positions of need. Unfortunately, the San Francisco 49ers are not one of ...
March 9, 2010
Are the San Francisco 49ers copying the management style of the San Francisco Giants? Say it ain't so! The San Francisco 49ers have made their first free agent signing on Monday ...
March 5, 2010
No, this is not an article suggesting that the San Francisco 49ers should draft Sam Bradford or Jimmy Clausen, nor that backup quarterbacks Shaun Hill or Nate Davis should take ...
February 25, 2010
The San Francisco 49ers head into the 2010 season as the front runners to win the NFC West. With Arizona Cardinals quarterback Kurt Warner retiring this offseason, the 49ers have ...
February 14, 2010
April 25, 2009: With the tenth pick in the 2009 NFL Draft, the San Francisco 49ers select Michael Crabtree, wide-receiver Texas Tech. Just under ten months ago, Crabtree fell right into ...
January 9, 2010
The San Francisco 49ers missed the playoffs for the seventh straight season in 2009 and to add insult to injury, they wasted what should have been a career year for ...
January 7, 2010
With the 2009-2010 NFL season now in the books for the majority of the NFL's 32 teams, it is time for fans to discuss why their clubs failed to qualify ...