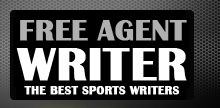 Yankee Addicts
Categories
Featured Sponsors
News published by
August 9, 2010
We've been told our entire lives to forgive and forget—let go of a bad memory and release the hurt it's caused you. Perhaps a difficult task, moving forward is never simple, ...
August 4, 2010
The old saying goes, third time's a charm. Does the old saying contain a metaphor for Brett Favre's NFL career? America will know that answer within a couple days, as the ...
August 2, 2010
Something absolutely magical happened this past week. Yes, the clouds of earth have parted, thus, the football Gods have shined down a gorgeous ray of light on thirty-two cities across ...
July 27, 2010
Image: http://getyoursorgohome.files.wordpress.com/ We watched him last night play himself, opposite Ari Gold on Entourage. San Diego Chargers outside linebacker Shawne Merriman has officially made his carbon footprint in LALA ...
July 20, 2010
Tim Tebow. He's been considered by many fabu-gals to be the absolute definition of "the perfect man." An all-American boy who's set to begin his NFL career with the Denver Broncos ...
July 8, 2010
Jessica Simpson Image: http://www.blogthecoast.com Ms. Daisy Duke loves her All-American football players, now doesn't she? Just a year out of her breakup from Cowboys ...
June 30, 2010
It's no surprise that football injuries can ultimately lead to degenerative problems for players years after they hang up their cleats. After all, one can only be tackled, pushed down, and ...
June 28, 2010
Dallas Cowboy fans across the country, rejoice. God has blessed you with the pro-sports good luck charm by the last name of Kardashian. It's no secret that the Kardashian ...
June 4, 2010
Picture: Courtesy of Alex Mercier ...in something other than sports. One of my favorite television commercials is the NCAA ad spot that graphs a montage of student athletes, followed ...