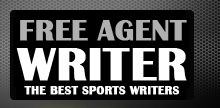 Yankee Addicts
Categories
Featured Sponsors
News published by
February 26, 2010
The 49er faithful are screaming for the 49ers to pick up CJ Spiller with the 13th pick in this years' draft.  It makes sense.  The 49ers are a few pieces ...
February 25, 2010
With free agency and the combine fast approaching, it's fun to consider what moves the 49ers could make this off-season. Outside of Julius Peppers and Carlos Dansby, this free agent ...
February 20, 2010
Things haven't gone well for Alex Smith during that last few years. After he was drafted first overall in the 2005 draft he's been hurt, replaced, taken a pay cut, ...