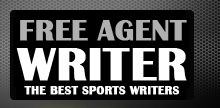 Yankee Addicts
Categories
Featured Sponsors
News published by
February 4, 2011
I'm here today to talk about a very important issue facing the St. Louis Rams. Chairs. That's right, chairs. Anyone who has attended a game at the Edward Jones Dome ...
October 8, 2010
In anticipation of this week's matchup, Lions Featured Columnist Dean Holden and I exchanged some questions and answers regarding our respective teams.  You can find my answers to Dean's questions ...
September 30, 2010
What's the media's favorite hobby? Tearing down someone who is on top. What's the media's second favorite hobby? Building that same person up after he or she has hit bottom. Never mind the truth, ...
September 21, 2010
As the old saying goes, the definition of insanity is doing the same thing over and over and expecting a different outcome. By that description, the Rams' offense is insane. Offensive Coordinator ...
September 3, 2010
I think its fair to say that there is a level of optimism in St. Louis that has not been present for several years. The reason: Sam Bradford. Thus far, Bradford has done ...
August 27, 2010
The St. Louis Rams have had a very good week.   Sure, its only August and opening day is sixteen days away.  But, when Rams fans look back one day and identify ...
August 24, 2010
Its halfway through preseason. The Rams' starting quarterback, acquired during the preseason, has been injured. The team will now have to rely on a new quarterback with little experience. Where have I heard ...
August 20, 2010
It's hard to be a Rams' fan these days.For the past few years there has been little to cheer about.From the decline of the Greatest Show on Turf, to the ...
July 26, 2010
The Rams need as much talent as they can get. But they don't need Terrell Owens. Nevermind that Owens is one of the most disruptive, egomaniacal, self-aggrandizing players in the history of ...
June 1, 2010
In this dark time in the history of the Rams francise, it is important to remember the glory of the past. So, I give to you my list of ...