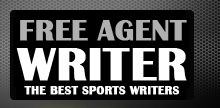 Yankee Addicts
Categories
Featured Sponsors
News published by
June 16, 2010
If you haven't heard already, the New England Patriots and Logan Mankins are at an impasse. Mankins has demanded a trade after being offered a deal that would average $7 million ...
June 11, 2010
Throughout the history of the NFL, there have been teams that have dominated each decade, winning three or more Super Bowls in short time spans. They stand atop the mountain of ...
April 3, 2010
Gone are the days of Richard Seymour and Mike Vrabel, they are spending their days at the bottom of the AFC West while Tedy Bruschi and Rodney Harrison laugh it ...