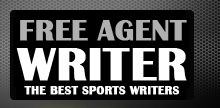 Yankee Addicts
Categories
Featured Sponsors
News published by
January 18, 2014
Football is the epitome of a team sport, but a handful of matchups will prove to be more important than others when the Seattle Seahawks and San Francisco 49ers square ...
January 18, 2014
The 2014 East-West Shrine Bowl kicks off in a matter of hours (4 p.m. ET on NFL Network), giving some of the nation's top seniors an opportunity to showcase their ...
September 15, 2013
The New York Jets almost pulled off an improbable upset against the New England Patriots on Thursday night, setting the stage for a risky Week 2. NFL betting should always be ...
September 7, 2013
Week 1 of the NFL regular season is finally here, and just like any week, you can expect at least a few upsets across the league.  The favored Denver Broncos crushed ...
January 20, 2013
One hundred of the nation's top NFL prospects gathered for the 2013 NFLPA Collegiate Bowl on Saturday, which saw the National team beat the American team 34-0. Although the game was ...
January 13, 2013
Ray Lewis refused to let his last ride derail in Denver.Bloody finger and all, the legendary linebacker helped lead the Baltimore Ravens to an epic 38-35 double overtime victory over ...
January 6, 2013
The road to the Super Bowl just got a little less crowded, as the Green Bay Packers and Houston Texans advanced on Saturday, while the Minnesota Vikings and Cincinnati Bengals ...
January 6, 2013
The Green Bay Packers cruised to a 24-10 victory over the Minnesota Vikings Saturday night to advance to the divisional round of the NFL playoffs.After Minnesota took a 3-0 lead ...
January 2, 2013
The Minnesota Vikings are in the playoffs because of Adrian Peterson, but they will need other players to deliver if they're going to win their wild-card matchup with the Green ...
December 30, 2012
Cleveland Browns head coach Pat Shurmur and general manager Tom Heckert are expected to be fired on Monday, according to Mary Kay Cabot of The Plain Dealer.Despite not being officially ...