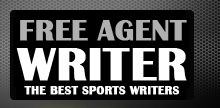 Yankee Addicts
Categories
Featured Sponsors
News published by
April 13, 2011
As the lockout of players looms like a dark cloud over the league, one small sliver of normalcy has emerged from the offices of the NFL. The 2011 preseason schedule ...
January 14, 2011
It's been a week since Stanford quarterback Andrew Luck crushed Panthers fans with his announcement that he would be returning to college for the 2011 season, removing himself from the ...
April 24, 2010
The Carolina Panthers have finally made a pick in the 2010 NFL Draft.  After serving as pedestrians to last night's first round, the Panthers finally got the chance to make a ...