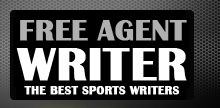 Yankee Addicts
Categories
Featured Sponsors
News published by
January 6, 2011
It's official: Jim Harbaugh is the sweetest thing since the West Coast Offense.  The NFL's newest eye candy has attracted the attention of several teams, and they are ready and ...
September 17, 2010
Who would've thought that the Dolphins chances of starting out 2-0 could hinge on who got the better of the pre-season trade of Greg Camarillo and Benny Sapp? But that very ...
April 22, 2010
The past couple weeks have been revealing and disturbing into the problems of Ben Roethlisberger. Roethlisberger's off-the-field issues have netted him a six game suspension by Comissioner Goodell. ...
April 16, 2010
It's inevitable in every draft to see a lot of emotion. Teams rejoicing in getting "their" guy. Teams who manage to wheel and deal their way to what ...