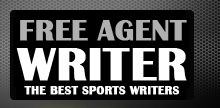 Yankee Addicts
Categories
Featured Sponsors
News published by
July 30, 2011
Peyton Manning has just signed a five-year, $90 million extension with the Indianapolis Colts, and even though Manning is still a top-tier NFL quarterback, the fact that he's making the same paycheck ...
April 25, 2011
2011 NFL Mock Draft Gives Kansas City A Chance To Build Up Front If you thought Jamaal Charles was a beast now, wait until he has Gabe Carimi making ...
March 22, 2011
Madden NFL 12 Needs Your Help, Football Fans!It's that time of year, folks!You know, when football season is over and we're all dying for a little more NFL action (that ...
December 19, 2010
Tim Tebow: Is Tebow Worth a Shot in Your Fantasy Football League?So Tim Tebow will officially start as the Denver Broncos quarterback during tomorrow's game against the Oakland Raiders, and ...
December 12, 2010
Bengals vs. Steelers: Will the T.Ocho Show Actually Show Up? The Pittsburgh Steelers will host the Cincinnati Bengals today at 1:30 p.m. ET. What's on the Line: For the Bengals? Not a ...
December 12, 2010
Jets vs. Dolphins: Can New York Claim a Playoffs Spot? The New York Jets will host the Miami Dolphins at 4:15 p.m. ET on Sunday. What's on the Line: Even after a ...
December 12, 2010
Cardinals vs. Broncos: Will Denver Break Losing Streak in Arizona? The Arizona Cardinals will host the Denver Broncos at 4:15 p.m. ET on Sunday. What's on the Line: Pride. Period. These could be ...
December 12, 2010
Week 14 of NFL football started off with a bang as the Indianapolis Colts defeated the Tennessee Titans, but we're just getting started! With only three weeks left in the regular ...
December 8, 2010
Urban Meyer has stepped down as the head coach of the University of Florida Gators football, and rumors have been circulating that he could fill the vacant head coach position ...
November 30, 2010
NFL Power Rankings Week 13: Did the Chicago Bears Clip the Eagles' Wings?Week 12 of NFL football brought us some pretty close calls and some serious blowouts, and it's time ...