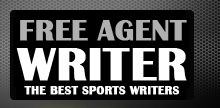 Yankee Addicts
Categories
Featured Sponsors
News published by
June 7, 2015
The Ryan Clady of 2015 is nothing like the Ryan Clady of 2010, but his ACL tear will still impact the Denver Broncos. Clady's unfortunate knee injury during OTAs marks the ...
July 30, 2014
Whenever a team has as much talent as the Denver Broncos do, trimming the roster to 53 players is no easy task.  The Broncos are overflowing with talent on both sides ...
April 30, 2014
The Denver Broncos are in a solid position, but they still need a decent draft to help close the gap between them and the reigning champion Seattle Seahawks. That means Denver ...
April 5, 2014
Last season, the Denver Broncos added a pair of key starters in the latter stages of free agency.Shaun Phillips, who finished with double-digit sacks last year, was signed on the ...
March 22, 2014
Last year, Julius Thomas was an unknown. Now, he is a star. Thomas, drafted in the fourth round in 2011 as a developmental project, came out of nowhere. But now, he's ...
March 19, 2014
The 2014 free-agency period is about a week old, but even in that short span of time, every team has made notable roster moves. One of the most active teams has ...
March 15, 2014
Aqib Talib got the money. DeMarcus Ware got the media attention. However, while both of Denver's recent free-agent signees will help, it's T.J. Ward who will make the biggest impact. Ward "only" ...
January 29, 2014
Richard Sherman and many others think he's the best cornerback in the game. And they might be right.Sherman didn't give up a completion in the NFC Championship Game, and he ...
December 21, 2013
In March of 2013, Batman lost his Robin. When Elvis Dumervil left pass-rush partner Von Miller and the Denver Broncos for the Baltimore Ravens, it dented the Broncos pass rush ...
October 19, 2013
Malik Jackson wasn't a hot commodity in the 2012 NFL draft, and he didn't do anything for the Denver Broncos in 2012. However, it's been a different story in 2013. ...