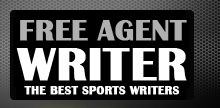 Yankee Addicts
Categories
Featured Sponsors
News published by
September 30, 2014
Four games down, 12 to remain in the Chicago Bears' season.  As most of us thought, the Bears are 2-2 through the first four, doing it in a way very few ...
September 23, 2014
The chip that currently sits on the shoulder of tight end Martellus Bennett has been very valuable to the Chicago Bears in 2014. Bennett, now in his second season with the ...
December 30, 2010
Since I'm in the holiday spirit, I'd like to continue the giving and share a few of my thoughts on the Brett Favre-Jenn Sterger debacle. Roger Goodell was supposed to be ...
December 27, 2010
Isaac Bruce spent 14 years in a Los Angeles/St. Louis Rams uniform. He's been with the Rams at their highest and lowest points. Playoff berths, division titles, conference titles and ...
December 22, 2010
First off, Happy Holidays to all and to all a merry playoff and bowl season. Now I'd like to share a quick poem I threw together.Actually, what I really did ...
December 6, 2010
Thanks to a 19-6 win over the Arizona Cardinals, the St. Louis Rams are one step closer to an above .500 record for the first time since Week 8 of ...
November 29, 2010
Talk about split personalities. Just when I'm ready to write the season off for the St. Louis Rams they turn it around, then blow it again, then turn it around, ...
November 28, 2010
The St. Louis Rams' season is spiraling out of control--fast. The only thing that may be sinking faster is the head coaching career of the Denver Broncos' Josh McDaniels.Roger ...
November 22, 2010
Stick a fork in 'em cause they're done. The Rams' 34-17 loss is its fourth in six games. On the bright side, Seattle lost in New Orleans which keeps them ...
November 16, 2010
The 2010-11 season has been rather unpredictable I'd say. We are now in Week 11 of the NFL season and 25 of 32 teams either lead, are tied, or are ...