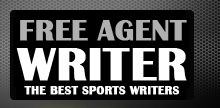 Yankee Addicts
Categories
Featured Sponsors
News published by
June 20, 2014
Cleveland Browns head coach and former New York Jets defensive coordinator Mike Pettine reportedly believes the New England Patriots may have had access to the Jets' defensive playbook. Would having an opponent's playbook ...
February 5, 2014
After a record-breaking season on offense, the Denver Broncos were unable to button the season with a ribbon and a Super Bowl XLVIII win. Peyton Manning will go through the scrutiny ...
February 5, 2014
The Super Bowl is over but that doesn't mean to stop asking the hard hitting questions. Looking forward to next year, the Denver Broncos and Seattle Seahawks are both coming back ...
February 5, 2014
Coming into the Super Bowl being the No. 1 defense in the league, the Seattle Seahawks faced the No. 1 offense in the Denver Broncos in Super Bowl XLVIII.  With ...
December 17, 2013
The Oakland Raiders have shown flashes this season that they can compete with some of the best teams in the league. The 2013 season may be lost for Oakland, but ...
December 10, 2013
The Washington Redskins' season has been a complete disappointment for the team and its fans—starting with the questions surrounding RG3's health during preseason, all the way up to the embarrassing ...
October 29, 2013
Boomer Esiason dishes on the value of the backup NFL quarterback with Reese Waters on this week's Behind the Mic. Watch now as Boomer breaks down the difficulties of the ...
October 29, 2013
Reese Waters poses an interesting question to Boomer Esiason on an all-new Behind the Mic: "What team would Boomer play for if he was in the league today?" Watch to ...
October 29, 2013
Phil Simms' joins Behind the Mic to discuss some cliched on-air vocabulary that fans of the NFL usually hear during their favorite games. Watch Phil as he takes on his least ...
October 22, 2013
The Broncos offense has been electric so far in 2013; however, their defense has struggled at times. Will the Denver defense hold the team back this season? Behind the Mic contributor ...