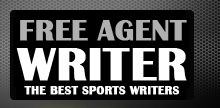 Yankee Addicts
Categories
Featured Sponsors
News published by
April 23, 2011
After a year of ups and downs, the Seattle Seahawks 2011-2012 season should be more of the same.The Seahawks are getting older at certain positions and this year, a new ...
April 9, 2011
Even though a lockout is occurring right now in the NFL there is still one event NFL fans can look forward to, the NFL Draft.The NFL draft in my opinion ...
January 9, 2011
Eleven-point underdogs.  That's what the Seattle Seahawks were going into this Saturday playing against former Super Bowl champions New Orleans Saints. There was no way the Seahawks were going to win this ...
October 28, 2010
After a hard loss against rival NFC North opponent Green Bay Packers and a 2-4 start, the Minnesota Vikings are looking to rebound. But things will be tough after quarterback Brett Favre injured his ...
September 30, 2010
Going into the 2010-2011 NFL season the NFC West looked weaker then the previous years, which is tough to say after some pretty dismal seasons. Still, someone has to win ...
July 29, 2010
Began in 1936, one of the most exciting events of the NFL season is the NFL Draft. Of course it wasn't so highly anticipated and exciting in 1936, but every ...
July 15, 2010
After a disappointing 2009 season, the Seahawks look to improve after a productive offseason. With new coach Pete Carroll taking the reins and new general manager John Schneider as his ...
June 16, 2010
Pete Carroll is now the Seattle Seahawks head coach and that just doesn't sit well with me after all this USC garbage. I can't believe he didn't know anything about the scandal at ...