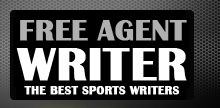 Yankee Addicts
Categories
Featured Sponsors
News published by
November 18, 2010
Who's more important than the quarterback in your fantasy league? Dan Carpenter. But if you aren't the Nostrafantasypus, you better have picked a good quarterback. Hopefully you weren't like me ...
November 11, 2010
Everyone loves fantasy football. Well, everyone who didn't draft Brett Favre in the first few rounds, that is.There are a few surprises up to this point in the season, but ...
November 4, 2010
Three years ago, Jake Plummer walked away from millions of dollars to get away from the sport he loved. Like his best friend Pat Tillman, Plummer needed some space and ...
November 4, 2010
That's it, I've had it with Brad Childress. For five years, Childress has been the definition of mediocrity: despite having among the most talented teams in the league, it took a ...
October 28, 2010
We're now entering the eighth week of football play. What has surprised most football fans is the parity that has developed within the league. There is no runaway team in ...
October 7, 2010
Just five weeks into the NFL season, there are already many disappointments: the Minnesota Vikings, thought to be NFC favorites, and the Dallas Cowboys, another club thought to be contending, ...