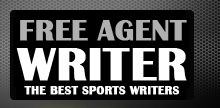 Yankee Addicts
Categories
Featured Sponsors
News published by
November 26, 2010
If Ben Roethlisberger was a white, Super Bowl-winning quarterback for one of the NFL's great franchises, this never would have happened.  In fact, it's hard not to sympathize with the plight ...
July 26, 2010
Amid the reports that Dez Bryant of the Dallas Cowboys refused to carry the shoulder pads of fellow wide receiver Roy Williams at training camp, one thing stands out. Roy Williams ...
July 1, 2010
As men, we know who Kendra Wilkinson is for a variety of reasons. As sports fans? Well, just one. That's right, she's the, uh, famous Hank Baskett's ...
June 11, 2010
It has taken me quite a bit of time to come to grips with the Donovan McNabb trade. I followed him when he was the star quarterback for Syracuse. ...