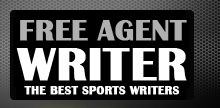 Yankee Addicts
Categories
Featured Sponsors
News published by
April 18, 2011
With the 2011 NFL draft in the near future it is easy to know which franchises will draft well, the ones that have drafted well in the past. The New ...
April 10, 2011
With the NFL Lockout continuing to drag on, New York Giants co-owner, John Mara, might have to take a page out of his father Wellington's playbook and save the NFL ...
January 29, 2011
If Plaxico Burress rejoins the New York Giants and his tank isn't on empty, and that is a big if, he could have a surprising impact on the team. It ...
January 21, 2011
Pittsburgh Steelers safety, Troy Polamalu is inarguably the best safety in football right now, but on the other side of that coin New York Jets cornerback Darrelle Revis is definitely the ...
December 21, 2010
Georgia super-junior wide receiver A.J. Green seems to be on a collision course with the NFL. And with only two weeks left until the NFL regular season comes to a close, ...
December 11, 2010
Cleveland Browns President Mike Holmgren should be smart enough to see that he and Head Coach Eric Mangini have the Browns organization on the right course, and that if he fires ...
December 11, 2010
The 2011 NFL Draft is rapidly approaching, and senior Oregan State University do-it-all defensive lineman Stephen Paea, the definition of a one man wrecking crew, is ready to explode onto ...
December 8, 2010
With the college football season finally over, it is time for the most fun part of college football: evaluating and analyzing college players for the 2011 NFL Draft. Even with ...
October 22, 2010
The NFL is a league that many believe stands for "Not For Long." In other words a player who was once good, like Daunte Culpepper, can see his play and ...
October 21, 2010
The New York Giants have long had a history of locking up their talented young players early, ensuring that they remain with the team long term. However, 2010 is a ...