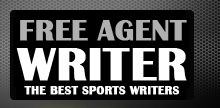 Yankee Addicts
Categories
Featured Sponsors
News published by
December 1, 2012
I was pretty much guaranteed to have a bad week with the picks last week. I was on vacation at my parents' house and honestly I didn't spend as much ...
July 9, 2011
I'm really not exactly sure what I'm doing, writing a Browns article during the lockout. I made a mental pact with myself that I wasn't going to bother with writing ...
April 28, 2010
T.J. Ward, safety out of Oregon, was selected by the Cleveland Browns with the 38th overall pick in the 2010 NFL Draft. As I mentioned in my last article, I was skeptical ...
April 16, 2010
Thursday night on ESPN was "Jon Gruden's Quarterback Camp." The former Super Bowl champion winning coach sat down with the top four QBs in this year's draft (Sam Bradford, Jimmy Clausen, ...
March 18, 2010
Those who fail to learn from history are doomed to repeat it. The Brady Quinn/Derek Anderson era in Cleveland is over...done...finished. While there is no need to dwell on the past, it ...
March 15, 2010
The Cleveland Browns have parted ways with a second quarterback within the past week. However, unlike Derek Anderson, who blasted Cleveland fans on his way out the door, Brady Quinn went ...
March 11, 2010
On the same day that he reported that Brady Quinn is on the trading block, ESPN NFL Insider Adam Schefter has reported that former Carolina Panther quarterback Jake Delhomme is ...
March 6, 2010
The Cleveland Browns have traded DE/DT Corey Williams and a seventh round pick to the Detroit Lions for a fifth round choice. The move makes sense for the Browns considering that ...
February 27, 2010
Brandon McDonald, out of the University of Memphis, was the 140th overall player taken in the 2007 NFL Draft. After a promising rookie season, he joined Eric Wright (taken in the second ...