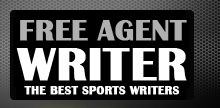 Yankee Addicts
Categories
Featured Sponsors
News published by
February 13, 2013
Bronx native and now former New York Giants defensive tackle Chris Canty was in great spirits upon his arrival at the Thurman Munson Awards Dinner at midtown Manhattan's Grand Hyatt ...
January 30, 2013
New York/New Jersey, people will come, NY/NJ. They'll come for reasons they can't even fathom. They'll turn up your roads not knowing for sure why they're doing it. They'll arrive ...
January 16, 2013
It was the flowing of champagne a year ago, but it's Pepto Bismol now for the New York Giants front office. The convalescence following the 2012 season may have been expedited with ...
January 2, 2013
Oh, have I got your attention now? Good, because we're adding a little something to this year's offseason. As you all know, first prize is you get to keep your ...