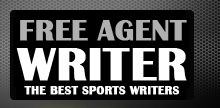 Yankee Addicts
Categories
Featured Sponsors
News published by
August 10, 2013
Are you ready for some football? The Pittsburgh Steelers will host the New York Giants on Saturday night in what's sure to be an exciting duel between two of the top ...
August 3, 2013
One of the best parts of the Professional Football Hall of Fame is its exclusivity. But that doesn't mean everyone who should be inducted into Canton necessarily does. That was more ...
August 3, 2013
The National Football League's preseason will commence on Sunday, August 4 when the Miami Dolphins and Dallas Cowboys square off for the annual Pro Football Hall of Fame Game from ...
June 4, 2013
We've heard a lot about Tim Tebow and his potential future in the NFL this offseason, but we haven't heard from Tebow himself about what plans to do. There's no ...
May 25, 2013
The Arizona Cardinals took a risk selecting former LSU defensive back Tyrann Mathieu in the third round of the 2013 NFL draft, but he'll make sure they won't regret it. ...
May 24, 2013
The bad news just keeps on coming for former NFL wide receiver Titus Young. On Friday, Young was in court for a pretrial hearing when it was announced that he ...
January 9, 2010
No NFL opportunity could be a more perfect match for Pete Carroll than the Seattle Seahawks. Carroll has always maintained that he would never leave USC unless a premium opportunity ...
January 8, 2010
While it's insane to think its possible to predict an entire NFL draft, it might be within the realm of possibility to figure out the first five picks. Below is the ...