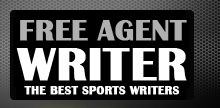 Yankee Addicts
Categories
Featured Sponsors
News published by
December 29, 2010
NFL power rankings change each and every week and offer a look at the landscape of the league. Here is a look at my NFL power rankings heading into the ...
December 27, 2010
Tim Tebow is turning heads, and the NFL is smiling. The former Florida quarterback and Heisman Trophy winner is playing well under center for the Denver Broncos and is seemingly translating ...
December 27, 2010
The Dallas Cowboys and the San Francisco 49ers were once fierce rivals and among the strongest franchises in professional sports. Year in and year out, "America's Team" and the "Team of ...
December 21, 2010
Jay Cutler was on his game last night in the Chicago Bears' 40-14 rout of the Minnesota Vikings. While Cutler has shown a bit of inconsistency this season, he has ...
December 16, 2010
NFL playoff scenario is a hot topic as Week 15 kicks off tonight with the San Francisco 49ers and San Diego Chargers battling. With both teams in the thick of ...
December 16, 2010
Terrell Owens has finally opened his mouth. With the Cincinnati Bengals owners of a dismal 2-11 record, wasn't it only a matter of time?  Owens has had a solid season, but ...
December 16, 2010
Antonio Gates is doubtful for the San Diego Chargers Thursday night football game against the San Francisco 49ers.  Gates is nursing the foot injury that caused him to miss last week's ...
December 14, 2010
Giants vs. Vikings caught the attention of every NFL fan Monday after the game was re-scheduled following the collapse of the Metrodome's inflatable roof. The game was moved to Detroit, where ...
December 9, 2010
Colts vs. Titans is drawing plenty of interest from NFL fans across the country.  Featuring two teams that have struggled this season despite high expectations, the game is sure to serve ...
December 8, 2010
Colts vs. Titans is making waves across the NFL leading up to the Week 14 Thursday night matchup. Indianapolis has lost three straight games and remains on the outskirts of the ...