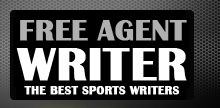 Yankee Addicts
Categories
Featured Sponsors
News published by
January 14, 2011
Shuttle runs, 40 times, bench press and psychological interviews.The NFL combine (Feb. 23) and private workouts are right around the corner with no shortage of players looking to improve their ...
July 23, 2010
For the second straight season, the Detroit Lions added a lot of new players. And with new players comes new competition. Coach Jim Schwartz, offensive coordinator Scott Linehan, and defensive coordinator ...
July 23, 2010
Brett Favre will be returning for his 20th NFL season. Well, at least that's what every single person believes. But, how far fetched would it be if this is the exact set ...
July 19, 2010
NFL Training Camp is set to start in a week. And every season, teams come in with high expectations. The player who shoulders the heaviest load is the quarterback. ...
July 2, 2010
A player's career in the NFL can be quite strange. Some remain on top for a while, but there is always that one year they can never top. Then fans wonder why ...
June 30, 2010
The NFL off season should be a time to relax, escape the spotlight, and have some fun. Some players, however, take a different approach. There's players that will have a little too ...
June 18, 2010
In one corner you have Albert Haynesworth, a supposed NFL defensive tackle. In the other corner you have Keith Bulluck, a 33-year-old linebacker coming off a torn ACL. And in the middle ...
June 14, 2010
The enigma that is Vince Young continues to grow. Every time it looks like the quarterback is heading in the right direction, he moves the wrong way out of the pocket. His ...