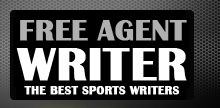 Yankee Addicts
Categories
Featured Sponsors
News published by
November 17, 2013
Few things cause the public to overreact like big wins and impressive records. Casual bettors tend to favor teams with superficial value. That value tends to come back and haunt ...
August 24, 2013
Jordan Cameron, to many casual fans, is a man without a face.  He plays for a perennial loser at a position that is currently suffering an identity crisis in terms ...
December 16, 2012
The Baltimore Ravens fired Cam Cameron earlier this week as they prepared for a showdown game against the Denver Broncos. News of such a coaching shakeup is normally detrimental.  Preparation issues ...
February 4, 2011
With the NFL Pro Championship steadily approaching, it has become more than appropriate for a definitive guide to Super Bowl XLV without over-emphasizing historic franchises, quarterback play, (duplicitous ...
December 4, 2010
SpreadSHREDDER Week 12 Record ATS: 1-1 Week 12 Record vs. Wagering Total: 0-1 Overall Record ATS: 17-15-1 Overall Record vs. Wagering Total: 2-2 Although this isn't the first time this season we've gone all ...
November 6, 2010
[SpreadSHREDDER Week 8 Record: 3-1] [Overall Record: 14-10-1] The SpreadSHREDDER had a strong 3-1 week last week as we bounced back from a pair of sub-par outputs.  Had we not got ...
October 31, 2010
On a Sunday that will reek with the stench of desperation, we look to take advantage of both underdogs and favorites who suddenly find themselves in must-win territory.  Hell, we ...
October 23, 2010
[SpreadSHREDDER Week 6 Record: 1-2] [Overall Record: 10-7-1] Last week, a sure underdog cash was swept from under us as the New York Jets escaped with the cover in ...
October 16, 2010
SpreadSHREDDER Week 5 Record: 2-1 Overall Record: 9-5-1Last week, the SpreadSHREDDER was a late pick-six away from going 3-0, and unbeaten for the second time this year (thanks Brett).  With their ...
October 9, 2010
SpreadSHREDDER Week 4 Record: 2-1Overall Record: 7-4-1The SpreadSHREDDER rebounded from its first losing week of the season with a 2-1 record as we sit pretty at over 60 percent ATS ...