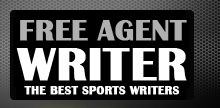 Yankee Addicts
Categories
Featured Sponsors
News published by
August 12, 2010
Pete Carroll was known at USC when he had ample talent available for playing a series of running backs who would comprise a committee.  Will this be the case in ...
August 8, 2010
Pete Carroll He is accepting a new challenge after a great stretch at USC replete with two national championships.  He had previous NFL stints with the New York Jets and New ...
August 7, 2010
Julius Jones will turn 29 on August 14.  In virtually any other walk of life he is a very young man. In certain sports participant endeavors 29 is an age where ...
August 2, 2010
Justin Forsett is a running back who could aid Pete Carroll in one of two ways in the coach's first season at the Seattle Seahawks' helm. Forsett stood in the shadows ...
August 1, 2010
Even before taking the head coaching job for the Seattle Seahawks, at a time when his name was being discussed, certain doubters referred to Pete Carroll as an NFL "failure." This ...
July 6, 2010
Veteran NFL players have frequently functioned as role models to those just acclimating themselves to new systems. This pattern often asserts itself with greater frequency in the cases of players who ...
July 3, 2010
Don Coryell died Thursday at the age of 85 according to a news release from the San Diego Chargers, the team with which he enjoyed his greatest coaching success. Coryell died ...
July 1, 2010
It was a fall Sunday afternoon at Qwest Field and the Seahawks were in action. As NFL commentators are prone toward doing, a discussion began on which player on the field ...
June 30, 2010
Two promising players that Pete Carroll selected in the last NFL Draft to help boost the Seattle Seahawk's aerial game are Golden Tate and Anthony McCoy. Carroll has experienced the results ...
June 28, 2010
  It was the mid 70s and America was not far removed from the end of the Vietnam War, Watergate, and the resignation of the U.S. president. During a period replete with ...