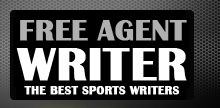 Yankee Addicts
Categories
Featured Sponsors
News published by
September 3, 2011
Well, the 2011 "fake games" are now over with as of last night. Let's take a look at what we've learned about the Oakland Raiders so far. Even though the ...
January 18, 2011
According to NFL.com, Hue Jackson will officially become the new head coach of the Oakland Raiders in a news conference scheduled at 4:15 p.m. ET. http://www.nfl.com/news/story/09000d5d81dc062b/article/raiders-pick-jackson-to-be-coach-after-offenses-success?module=breaking_news This does not come as a ...
December 24, 2010
It's been tough to be a Raider fan the last seven years. Living in Evansville, Indiana, in the heart of Colts country, hasn't made it any easier. When the Colts moved ...
December 6, 2010
Bullies don't like it when someone stands up to them. The San Diego Chargers once again proved this yesterday while being thoroughly dominated by the Oakland Raiders. One only has to ...
October 6, 2010
We're now four games into the 2010 NFL season. A season that I, like many other Raider fans, thought would be the beginning of a return to past glory. Well, from ...
September 30, 2010
This Sunday will match a pair of teams looking for some redemption in Oakland. The Raiders come in after a heartbreaking loss at Arizona. While the Texans were thoroughly out-played ...
September 16, 2010
I know it's only week 2 of the regular season. I know this may seem a little premature. I also know if the Oakland Raiders don't beat the St. Louis ...
September 13, 2010
Wow! I sure didn't see that one coming. Maybe, as a Raider, fan I see things as being better than they really are. Maybe all the improvements of the off-season were ...
July 15, 2010
The Oakland Raiders have struggled the past few years, but there are still many reasons to be a fan. Some are more important than others, but all are valid reasons to ...
July 3, 2010
According to Alex Marvez of Sirius NFL Radio, Jason Campbell has been working out with Brett Favre to get ready for the 2010 season. Viking fans should be happy as to ...