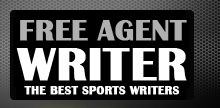 Yankee Addicts
Categories
Featured Sponsors
News published by
January 21, 2015
The Minnesota Vikings are set up for the 2015 free-agency period about as well as they could possibly be. Two key players on the club were scheduled to hit free ...
January 13, 2015
The NFL is down to its final four teams, and all is quiet on the home front as the Minnesota Vikings catch their breath and analyze the season that just ...
January 7, 2015
Hey Vikings fans, how do you think Dez Bryant would look in purple? As we enter the second week in January, it's dreaming season for the 24 NFL teams who are no ...
December 30, 2014
We'll cut right to the chase: The Minnesota Vikings aren't good enough to be a playoff team with their current roster not getting any better. So how do they fix ...
December 17, 2014
The Minnesota Vikings will travel to Miami on Sunday to take on the Dolphins in a game that doesn't have a whole lot on the line other than pride. The 6-8 ...
December 10, 2014
With tongue firmly in cheek, we'll say that the motto of the 2014 Minnesota Vikings has been, "We're just trying to get it right." The best thing that can be said ...
August 26, 2014
The Minnesota Vikings will look to finish off their first perfect preseason since 2001 when they fly to Tennessee to take on the Titans on Thursday night at 7 p.m. ...
August 23, 2014
Welcome to Week 3 of the NFL preseason, otherwise known as "the one that kinda, sorta matters." The Minnesota Vikings will try to stay perfect under Mike Zimmer and move to ...
August 16, 2014
Welcome to Game 2 of the Mike Zimmer era for the Minnesota Vikings, as they take on the Arizona Cardinals at TCF Bank Stadium on the campus of the University ...
July 29, 2014
Things are certainly looking up for the Minnesota Vikings as the Mike Zimmer regime begins at training camp in Mankato, Minnesota. Bogged down by four disappointing seasons in a row since ...