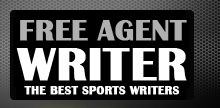 Yankee Addicts
Categories
Featured Sponsors
News published by
December 23, 2010
I'm befuddled. I'm baffled. I'm confused. I'm out of adjectives to describe my current state of mind after somebody showed me this article on ESPN about how the ...
December 21, 2010
The Good Lose and In For the Steelers, going into this game the saying was "win and in." Only that they didn't and somehow still clinched a ...
November 8, 2010
Here's what to look for tonight in Cincinnati.   Steeler Week Or so they say in Cincinnati. For the last eight years or so, the week they host the Steelers ...
October 19, 2010
Everyone else has one of these, so why can't I write one here? Now for the first edition of our NFL Power rankings. 1. Pittsburgh Steelers 4-1: With ...
October 2, 2010
Here's what I think the Steelers need to do tomorrow to reach the 4-0 mark.   Contain Ray Rice Earlier in the week, the Ravens thought they had lost Rice ...
October 1, 2010
I'm sure everyone has heard the story about Ray Lewis and Ben Roethlisberger texting each other. Before actually reading into it, my first recollection was the famous text ...