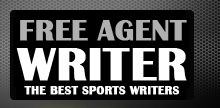 Yankee Addicts
Categories
Featured Sponsors
News published by
February 26, 2014
After another year of struggling at the wide receiver position, it's time for the Kansas City Chiefs to address this issue head on during the offseason. Eagles wideout Jeremy Maclin could ...
February 19, 2014
When new GM John Dorsey and head coach Andy Reid arrived in Kansas City last year, the pair knew that they had a difficult task ahead of them. The task was ...
December 12, 2012
With just three games left in the '12 NFL regular season, the Kansas City Chiefs are staring at one of their worst years in franchise history.KC is 2-11 and are ...
December 11, 2012
In a inter-divisional matchup, the Kansas City Chiefs will head west to Oakland to take on the hated Raiders in Week 15.Both teams are really struggling as they head into ...
December 8, 2012
With four-and-a-half months left until the 2013 NFL Draft, the buzz around the league is starting to pick up about this year's draft class.Currently, the Kansas City Chiefs are tied ...
December 5, 2012
This Sunday, the Kansas City Chiefs will travel to Cleveland to take on the resurgent Browns in an inter-conference battle.KC is coming off of one of the most emotional games ...
June 13, 2012
For the past few seasons, the Kansas City Chiefs have relied on star players like RB Jamaal Charles and WR Dwayne Bowe to help carry the team to offensive success.While ...
June 9, 2012
Every year, players around the NFL set individual goals to achieve for the upcoming season.One of those goals is to make the Pro Bowl for that particular year.Last year, the ...
May 2, 2012
Since the NFL Draft ended on Saturday night, some teams are already beginning to reach out to some of the remaining free agents who haven't found a home yet for ...
March 28, 2012
After a slow start in free agency this year, the Kansas City Chiefs have put together a solid group of free agents, including several players who should make an impact ...