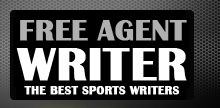 Yankee Addicts
Categories
Featured Sponsors
News published by
August 21, 2010
Don't forget the Brotherhood All-Access Membership is here. Dominate your draft with our customized league scoring draft tool. Have a question, bounce it off of us before you make a ...
August 18, 2010
Fantasy Football Brother's would like to remind everyone that our Brotherhood All-Access Membership is available. Don't be left out in the cold when it comes to sit/start questions during the season. ...
August 8, 2010
CONTINUING OUR WEEKLY COVERAGE ON QUARTERBACKS! We are proud to present the FantasyFootball Brothers QB Preseason Awards where our writers weigh in on all of the tough questions surrounding the position. ...
July 30, 2010
We're kicking off our FREE 2010 Draft Kit with the most important position in football and arguably all of sports. Quarterbacks are the most important players on the football field and ...
July 29, 2010
Our Free Kit Draft Starts Now In fantasy football knowledge is power.  Fantasy Football Brothers was created to give you the knowledge you need, giving you the power to dominate your ...
July 18, 2010
Early in this fantasy season, there is one question out there fantasy owners are having a tough time making up their minds about: which Raider is the right one to ...
July 12, 2010
Here at the Brotherhood we are constantly talking, watching, researching and reading about football(Just ask our future ex-wives). A hot topic here is always what players do we like, ...
July 5, 2010
While doing these rankings, I realized something about this year's running back crop. It looks to be a little top-heavy but surprisingly deep. I know it's a completely contradictory statement, ...
July 2, 2010
We head into July with news that Vincent Jackson has been suspended for three games. Here at Fantasy Football Brothers we continue to preach that Fantasy titles are won with a ...
June 1, 2010
The Brotherhood is Back! Wideouts are the topic of the day. As the Running Back position becomes more and more diluted, fantasy GMs would be wise to realize championship contenders are built around ...