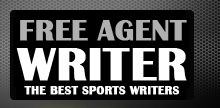 Yankee Addicts
Categories
Featured Sponsors
News published by
June 28, 2014
The comparison was made by one of the few people qualified to make such a bold claim.  Khiry Robinson as the next Curtis Martin.  Long time NFL coach and executive Bill Parcells, ...
June 25, 2014
The Miami Dolphins are hoping to solve the curious case of sixth-year NFL veteran running back Knowshon Moreno, who's looking to build off an impressive 2013 season. Moreno posted career bests ...
May 31, 2014
The Miami Dolphins were probably hoping for more production from the No. 3 overall pick last year, former Oregon standout Dion Jordan, whom the Dolphins actually traded up to draft ...
May 20, 2014
He might not have been a first-round pick, but Oakland Raiders quarterback Derek Carr might find himself in the best situation of all rookie quarterbacks heading into next season. Blake Bortles, ...
May 3, 2014
While the top of the draft may lack a true impact player at the running back position, that doesn't mean there aren't several players who'll make solid contributions come Sundays ...
March 15, 2014
The Kansas City Chiefs recently lost defensive end and former first-round pick Tyson Jackson to the Atlanta Falcons, as Jackson signed a five-year, $25 million contract within the first few hours ...
March 1, 2014
The NFL is changing the way it looks at the role of a tight end, and that's perfectly OK with former Texas Tech tight end Jace Amaro.   "They're looking for ...
August 17, 2013
If you caught any part of the Kansas City Chiefs game against the San Francisco 49ers on Friday night, there's a good chance you saw their offensive line struggle.  They gave ...
July 27, 2013
Now that NFL training camps have begun, fans across the country will take advantage of the opportunity to see their favorite teams in action. It's been a long, drawn-out offseason, ...
July 20, 2013
There are a few storylines as we head into NFL training camps that will shine a little brighter than others strictly because of the position being discussed. Those will come out ...