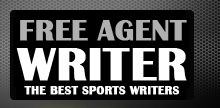 Yankee Addicts
Categories
Featured Sponsors
News published by
August 12, 2012
Per the Miami Sun-Sentinel's Izzy Gould and Omar Kelly, who have confirmed a report with the Davie police department, Miami Dolphins wide receiver Chad Johnson has been arrested for domestic ...
July 28, 2012
The first real casualty of Philadelphia Eagles training camp is Riley Cooper, it would seem. The receiver hit the ground hard after going up for a pass and broke his ...
March 23, 2011
It was bound to come sooner or later, but since he's already been chastised for the comments comparing what NFL players are going through to slavery, it's hard to know ...
March 23, 2011
First, it was Adrian Peterson trying to convince us that NFL players were going through something similar to modern-day slavery. "It's modern-day slavery, you know?" Peterson told ...
March 8, 2011
Recently, former Philadelphia Eagles running back Brian Westbrook expressed a desire to return to Philly, hinting along the way he'd be fine with a backup role to up-and-coming star ...
March 3, 2011
The Philadelphia Eagles announced Wednesday the tendering of restricted free agent Stewart Bradley and three others. The move to keep Bradley was expected, but what wasn't expected was the level ...
March 2, 2011
David Akers' agent, Jerrold Colton, told Jeff McLane of the Philadelphia Inquirer that the kicker would not be following Michael Vick's example and signing his one-year transition tag tender. ...
March 2, 2011
According to Jeff McLane of the Philadelphia Inquirer, Philadelphia Eagles quarterback Michael Vick will sign his one-year franchise tender Wednesday. Signing the tender will guarantee Vick a one-year contract ...
February 26, 2011
When the 2011 season kicks off, Brodrick Bunkley will be the starting defensive tackle next to Mike Patterson, and Antonio Dixon will be on the bench. And ...
February 18, 2011
Before the 2010 season, it looked like the NCAA was going to send a few franchise quarterbacks to the NFL, and perhaps even a superstar or two. Now, ...