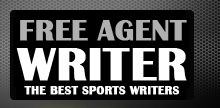 Yankee Addicts
Categories
Featured Sponsors
News published by
November 29, 2014
The Green Bay Packers are set to host the New England Patriots on Sunday in a game that many say could be a Super Bowl preview. While the Pack and ...
May 3, 2014
While the first round of the NFL draft gets most of the attention, teams' ability to find successful players in the later rounds is often a key to their long-term success. The ...
April 25, 2014
The Green Bay Packers have won more championships than any other team in NFL history. Since 1992, the Pack have been consistent winners and part of the reason for the ...
April 5, 2014
The Green Bay Packers have one of the richest histories of any NFL team. The Pack played their first season in 1919 and joined the NFL two years later. In ...
March 22, 2014
Green Bay Packers' general manager Ted Thompson historically has not been a huge believer in signing big-ticket free agents. Each March, many NFL teams go on lavish shopping sprees, but ...
January 22, 2014
Today's NFL is considered a quarterback-driven league. Most football "experts" argue that a team can't win a Super Bowl without a franchise quarterback. While that may often be the case, history ...
June 29, 2013
A few months ago, we looked at the best quarterback in each NFL team's history. Today, we will examine the best running back each franchise ever had.The player with the ...