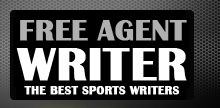 Yankee Addicts
Categories
Featured Sponsors
News published by
April 4, 2011
Last Sunday, the Jewish Hall of Fame inducted many including Gabe Carimi. Gabe is projected to be a first-round draft pick in the upcoming NFL Draft. The Wisconsin offensive lineman won ...
January 29, 2011
Chuck Bednarik is a Pro Football and College Football Hall of Famer who played for the Philadelphia Eagles.Bednarik was well known for being one of the NFL's last "Sixty-Minute Men," ...
January 19, 2011
Tedy Bruschi is one of the greatest New England Patriots in franchise history. Bruschi won three Super Bowls as a member of some of the greatest Patriot teams of the ...
November 20, 2010
Matt Dodge was the Giants' 7th round draft pick in the 2010 NFL draft. He is the starting punter of Big Blue, who take on the Philadelphia Eagles tomorrow. Last ...
November 8, 2010
Quarterback Mark Rypien earned the Super Bowl XXVI MVP after leading the Washington Redskins to a win over the Buffalo Bills in 1992. Rypien played college football at Washington State ...
September 15, 2010
Archie Manning is known for his 11 years as the New Orleans Saints starting quarterback. Manning played in two Pro Bowls as a Saint. Archie was the lowest drafted NFL player ...
June 17, 2010
  Mark Sanchez. Where can I start? The Sanchise took the New York Jets to the AFC Championship game last season. His great personality has led him to appear ...