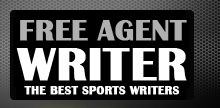 Yankee Addicts
Categories
Featured Sponsors
News published by
March 15, 2011
It does seem to happen in every sport at one point or another; no matter how overpaid an athlete is or how much money an owner rakes in, it just ...
March 12, 2011
Well it finally happened. Twenty-four years of peace and harmony, but in the end, greed overtook our sport yet again, and we as the fans have to take the butt of ...
January 15, 2011
Let's be honest, people either love or hate the Patriots. There really isn't any in-between. For the most part, this season has looked like their best since Belichick and Brady ...