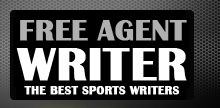 Yankee Addicts
Categories
Featured Sponsors
News published by
May 1, 2016
The Detroit Lions left the 2016 NFL draft a lot stronger and a bit deeper. General manager Bob Quinn used three of his first five picks to add talent to the ...
April 30, 2016
General manager Bob Quinn believes that you build a team from the trenches out. At least that's how his first three picks as the head of the Detroit Lions have ...
April 25, 2016
The kickoff to draft week is the dinner bell for mock drafts. NFL draft experts know this. They understand that the moment the 16th pick is selected, anything written up pre-draft ...
April 18, 2016
The Detroit Lions will enter the 2016 NFL draft with 10 picks. It's highly unlikely they leave with 10 rookies. General manager Bob Quinn went to the Bill Belichick school of ...
December 5, 2015
There will never be a consensus on Matthew Stafford. The Detroit Lions signal-caller has been assigned every label one can pin on a highly drafted quarterback, from bust to prodigy to ...
December 4, 2015
The referees didn't beat the Detroit Lions. One could even argue that the Green Bay Packers weren't completely responsible for their improbable 27-23 win. Unfortunately, when the Lions look back on this ...
November 7, 2015
The future is now. That statement was always befuddling. The word itself is referencing a time that has yet to pass, which is why it is in the future. Makes no ...
October 12, 2015
Backup quarterback Dan Orlovsky threw more passes than Matthew Stafford in the Detroit Lions' 42-17 loss to the Arizona Cardinals. Stafford wasn't hurt. That has to be the biggest takeaway from ...
September 1, 2015
An offensive line can be a quarterback's best friend. It can also be that friend who always needs to borrow a couple of bucks or says something inappropriate in front of ...
August 29, 2015
Don't be lazy. It's easy to look at the Detroit Lions' dress rehearsal and presume the worst. They couldn't find an offensive rhythm to start, and the mortal Blake Bortles looked like ...