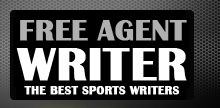 Yankee Addicts
Categories
Featured Sponsors
News published by
January 27, 2011
As Senior Bowl speculation heats up, many may say that the concept of certain acquisitions are anything but rumors, and indeed they are exactly that. In this case, as in many, rumors ...
January 24, 2011
The Vikings are still attempting to recover from the dire straits of when former head coach Brad Childress left the team. With players that showed little to no improvement over ...
November 9, 2010
As many of you have heard, the Green Bay Packers have recently released former Pro Bowl cornerback Al Harris. This is in part due to Harris's replacement, Tramon Williams, having ...
March 30, 2010
The Vikings announced their agreement with Michael Montgomery (pictured) to a one-year, $630,000 free-agent contract, according to a report Tuesday by Judd Zulgad of the Minneapolis Star Tribune . The sixth-round pick ...
March 30, 2010
The thought is crazy, right? Pacman with arguably the most wildest personality of the NFL today. Signing with the Vikings? Blasphemy! The Vikings are now less then a mere month until ...